We combine the latest in digital technology, our expertise in P.O.P and our extensive in-house finishing capabilities to produce cost effective short run products.

Our latest investment is a breakthrough in wide format printing and completes our investment in a digital work flow for short run work. From computer aided design pre-press to digital printing and then computer cutting.

Click here to read more about our CAD/CAM system

The New Durst Rho 160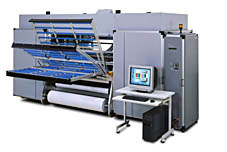 No need for films and screens. Computer to press technology with TIFF, JPEG, PostScript 2/3 and PDF input.

No need for specially coated materials. The Durst Rho 160 prints directly onto standard roll and sheet materials up to 1.6m wide and rigid materials up to 40mm thick.. There is virtually no limit to the print length and prints wider than 1.6m can be tiled to any size.


Display Board
Corrugated Board
Fluted Polypropylene
Semi Rigid PVC
Sheet Polypropylene
Wood
Etc etc ....
Self Adhesive Vinyl
Banner Grade Vinyl
Blue Backed Poster Paper
Foam PVC
Foam Centred Board
Glass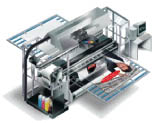 No need to laminate post printing to provide strength.

No need to over laminate to achieve abrasion resistance and outdoor durability. The Durst Rho 160 uses vibrant UV curing pigmented inks for indoor and outdoor applications.

No need for low resolution prints. Maximum print resolution is 360 dpi (equivalent to 150 lpi screen)
Applications
P.O.P Advertising

Posters

Exhibition Graphics

Backlit Displays

Display Graphics

Signage and Banners

Stage Graphics
And many more, you name it !




Contact us below for
advice on your application